Essay on Mahatma gandhi
Essay on Mahatma gandhi
"Lives of great men all remindus , that we can make our lives sublime."
1.Introduction –
Gandhiji was one of the greatest son of India . He was a world leader. He was called Bapu – The  father of the nation.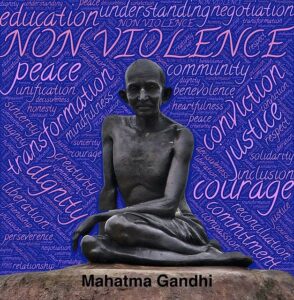 2.His Birth And Family –
His full name was Mohandas Karamchand Gandhi. He was born on October 2, 1869 at Porbandar, in Gujarat . His father was Karamchand Gandhi . He was the Diwan of Rajkot state. His mother was Putlibai . She was a good and polite lady. Kasturba was his wife . She was a simple and gentle lady.
3.His Education –
Gandhiji got his early education at Rajkot. As a student , he was weak and shy. He was very honest. He passed his matriculation. Then he went to England for further studies. He passed Bar, at law. He came back to India and become a barrister.
4. His Works –
He started his practice. He went to South Africa in a case. The condition of the Indians was very bad there. The English tortured them. He fought for their rights. He came back to India. He started struggle for freedom. He went to jail many times. Under his leadership India become free on 15th August 1947 . Gandhiji worked for the harijans and Hindu Muslim Unity. He loved  truth and Ahinsa most. He wanted 'RAMRAJYA' in the country.
5.Conclusion –
On July 30 ,1948 , Gandhiji was shot dead. The angel of peace left us for ever . All the country mourned his death. But his name will never die . He was a true servant of his motherland. We are  proud of him.
Churchil said on his death , "O Indian ? We saved Gandhi but you killed him."
Einstein said "The future generations will not believe that such a man could be in flesh and blood."
Essay about india of my dreams
Who is the person you admire most